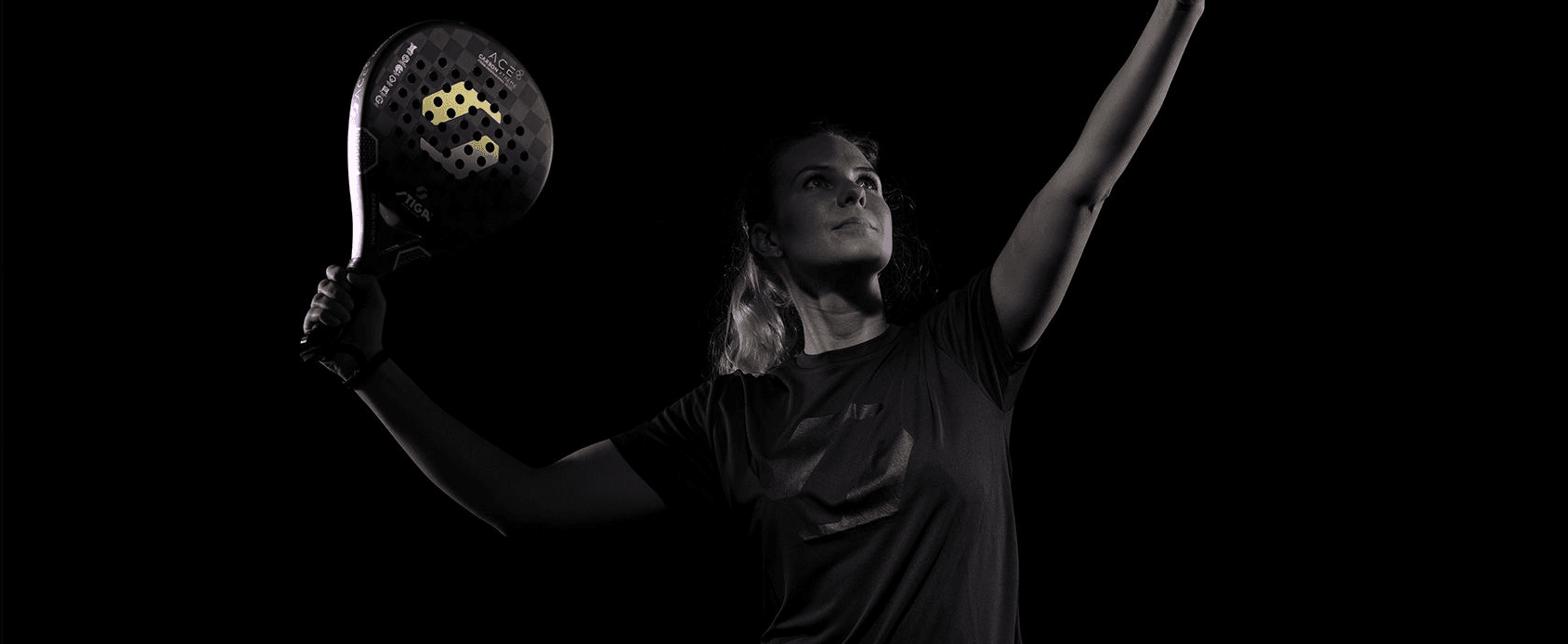 EMMIE EKDAHL + STIGA PADEL
Emmie Ekdahl is the first player to represent STIGA Padel. Born in Linköping in 1990, she is the embodiment of energy and determination – a winning combination for racket sports. Sport was a prominent feature in her upbringing. As a young child, she played table tennis, handball and tennis, and despite gaining a tennis scholarship in the States, she chose to stay in Sweden and work. Having played from the age of six until 19, she felt that tennis was already behind her and she was ready to try something new.
Emmie was introduced to padel by chance when a friend invited her to play for fun. She didn't realize that it would become one of her life's biggest passions. In the spring of 2017, she played at a new padel facility in Lund. The padel coach recognised her potential and told her that if she really dedicated herself to the sport, she could become a member of the national team. Emmie never looked back:
All of a sudden, I had a clear goal; here was a sport that I could become really good at. I turned all my attention to padel and one thing quickly led to another.
Emmie started padel training in earnest and went on to win several national competitions. In November of the same year, she was selected for the Swedish national padel team. Within a few months, Emmie had reached professional level.
In 2018, she trained and competed with even greater intensity, and went on to finish second in the finals of the Swedish Padel Tour. In the same year, she also participated in the World Cup in Paraguay. Emmie has experienced a very successful 2019, which has seen her on the podium at multiple SPT competitions, and she is now set to play in the European Championship. The overall goal is clear: to participate in as many World Padel Tour competitions as possible and become the best in Sweden.
Emmie's passion for padel is boundless:
I love the fact that, unlike tennis, padel is such a multifaceted sport that goes beyond the focus on technique and strength; it places great importance on game structure and how you build the game with your partner.
Parallel to padel, which involves many hours of training every day, Emmie is studying to be a physiotherapist. A career choice that is fully in line with her passion for padel, and provides her with additional tools to optimise her training programme and strengthen her body.
Emmie plays with the padel racket ACE, STIGA's most superior model. She says the racket is ideal for her offensive playing style because it provides great power while allowing her to maintain control and feeling when on the defensive. She considers the EVA foam - found at the core of all STIGA's padel rackets - to be a very important feature because it offers a larger sweet spot.
Read more about the entire STIGA padel racket range.
Join STIGA Sports Club
Discover all STIGA Sports stories – and be the first to hear about new products, promotions and events. Simply, get moving!
Follow us
Visiting adress:
Tång Lindströms väg 7 - 9
633 46 Eskilstuna Sweden
Org.nr: 556448-8178