Now - Shopping from the UK is easy! All duties and taxes are on us.
Now - Shopping from the UK is easy! All duties and taxes are on us.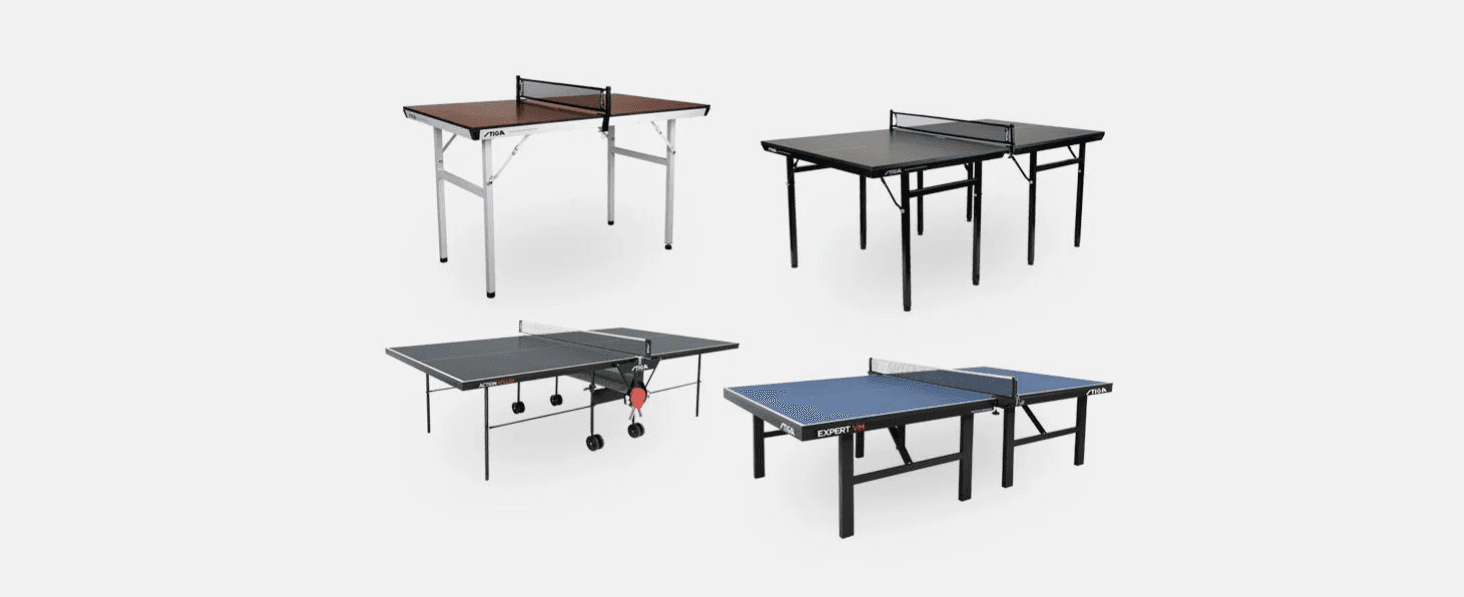 CHOOSING THE RIGHT SIZE TABLE TENNIS TABLE FOR YOU
What should I consider when purchasing a table tennis table? There are several factors that determine the type of table tennis table you should opt for. Will you be playing outside? Do you have sufficient space? Will it be mainly for children, or are you or someone in your family keen on progressing to competition level? We help you to choose the right table tennis table for your needs and level.
Our small table tennis tables – from the super-mini to the mini
Our small mini table tennis tables range from the most compact, super-mini tables that are placed on the kitchen counter or desk, to mini tables that are small, free-standing table tennis tables. The mini tables are about the size as a small home office desk (approx. 125-136 cm x 75 cm), which means that they are easy to accommodate almost anywhere. A mini table is ideal for the living room, children's room or in the corner of your home office. If you want to put the table away, it can be folded up and placed behind a door or under a bed.
A mini table is suitable for those who seek an active lifestyle and want to play table tennis at home with family and friends, but don't have the space for a full-size table tennis table. A mini table is also ideal for offices and small workplaces. Why not invest in a small, sleek table tennis table for your workplace? A great way to encourage active and sociable breaks.
Our mini tables are compact and easy to accommodate. Their size is comparable to that of a smaller desk found in a home office or children's room.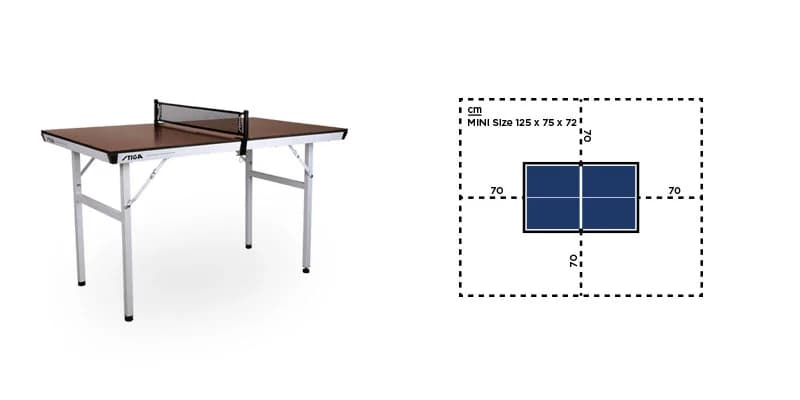 Our midi tables – not to small, not too large
The midi table tennis table (181 x 102 cm) is slightly larger than the mini table, approximately the size of a regular dining table. It has a larger playing surface and is an excellent investment for the home or office that offers slightly more space. A midi table can function both as a table tennis table and a countertop for a variety of activities, such as assembling jigsaw puzzles. The midi table is easy to fold up when not in use. Since it's only 6 cm thick when folded up, you can place it almost anywhere.
A table tennis table is a great way to encourage exercise and social interaction at the workplace.
Midi tables are about the same size as a regular dining table and easy to fold up when not in use.
Our full-size indoor tables – the ultimate table tennis experience
Among our full-size table tennis tables, there are several varieties to choose from. The standard dimensions of a traditional table tennis table are 274 x 152.5 x 76 cm. A table with such dimensions requires quite a bit of space, be it at home, at work or at the club. Maybe there's a recreation room, a spacious conference room or a garage that would easily accommodate a full-size table tennis table. Our table tennis tables of this size range from indoor tables (with or without wheels) to outdoor tables and ITTF-approved, competition level tables of the highest quality.
So, what should I consider when purchasing a large table tennis table? It's important to know that thicker table tops require a stronger undercarriage. This means that if a table is destined for use in a school or public space, it will need to endure considerable wear and tear, and thus you should invest in a table with a more robust table top and undercarriage, e.g. Elite Roller CSS with a 25 cm-thick table top or Elite Roller Advance with a 22 cm-thick table top.
Our outdoor tables – table tennis tables for all weather
Outdoor table tennis tables are ideally suited for schools, leisure centres, workplaces or other public spaces in which the table tennis table becomes a place of convergence. The most important thing to consider when purchasing an outdoor table is that it is designed for outdoor use. It should be able to withstand all weather conditions, be it summer or winter.
All of our outdoor tables are incredibly sturdy, and some can also be attached to the ground, thus they can endure a lot of wear and tear. The table tops on our outdoor tables are between 4 and 10 mm thick and are weather-resistant to withstand wind, water and sun. Of course, you can also use an outdoor table tennis table for indoor play.
Our competition tables – ITTF approved
During training and competitions, players and coaches converge in a limited space. This means that tables should be easy to put away and store when not in use. Several of our competition tables feature a CSS system, which means that the table can be folded up and does not take up much space when stored. STIGA's Expert VM is our classic competition level table that first made its appearance during the 1957 World Cup in Stockholm.
A full-size table tennis table does require some space, but offers you the opportunity to experience table tennis to the full.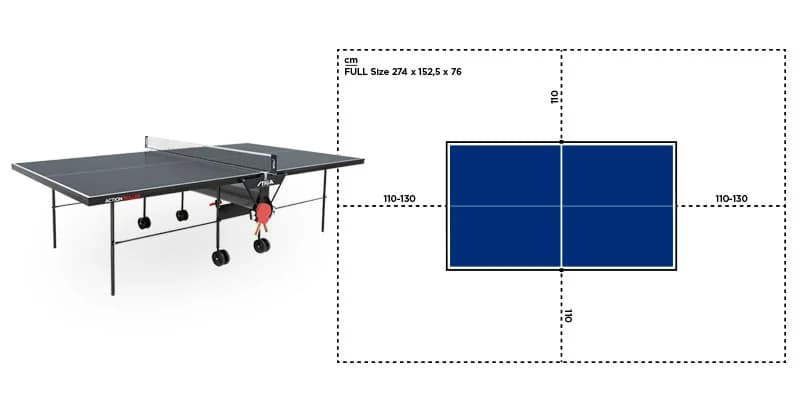 Join STIGA Sports Club
Discover all STIGA Sports stories – and be the first to hear about new products, promotions and events. Simply, get moving!
Follow us
Visiting adress:
Tång Lindströms väg 7 - 9
633 46 Eskilstuna Sweden
Org.nr: 556448-8178
UK VAT: GB377031890