BANDA BY STIGA – A CLASSIC THAT'S MAKING A COMEBACK
BANDA is back! It's almost impossible that any serious table tennis player is unfamiliar with the name BANDA. The classic table tennis brand with its characteristic lightweight, high quality blades is now making a long-awaited comeback to the table tennis table.
The company BANDA was founded in 1966 in Eskilstuna, Sweden by entrepreneur Bengt Bandstigen, who himself was a good table tennis player. Bengt established BANDA in response to STIGA's considerable influence on the worldwide table tennis market. He felt that there was room for at least one more name in the international arena, and thus he started his own business.
BANDA began to import Japanese balls by the Nittaku brand and then proceeded with the production of its own blades. The company's heyday came during the '80s and '90s when players who used its blades brought home both World Championship and Olympic titles. STIGA and BANDA were officially united at the beginning of the '80s when Bengt managed to acquire STIGA. The company worked on the two brands in parallel until the beginning of the noughties when it decided to focus entirely on STIGA.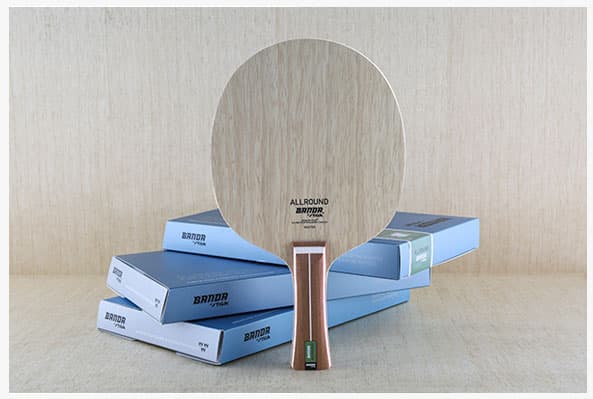 But times never cease to change and thus we're very proud to welcome BANDA back into our range, now under the name of Banda by STIGA. We start by launching the blade Banda by STIGA Allround – a lightweight, 5-ply blade that offers great control and feel, and is ideal for players who wish to move from the ready-made 5-star bat to gluing their own. Thanks to the soft and lightweight wood veneer, every strike can be laden with control, precision and feeling.
We've developed and designed the blade together with the original development team behind BANDA, and manufactured it in China in close cooperation with the Chinese national team. The result is a blade with BANDA's highly appreciated characteristics such as low weight, quality and feel – all updated to suit the modern game.
Join STIGA Sports Club
Discover all STIGA Sports stories – and be the first to hear about new products, promotions and events. Simply, get moving!
Follow us
Visiting adress:
Tång Lindströms väg 7 - 9
633 46 Eskilstuna Sweden
Org.nr: 556448-8178