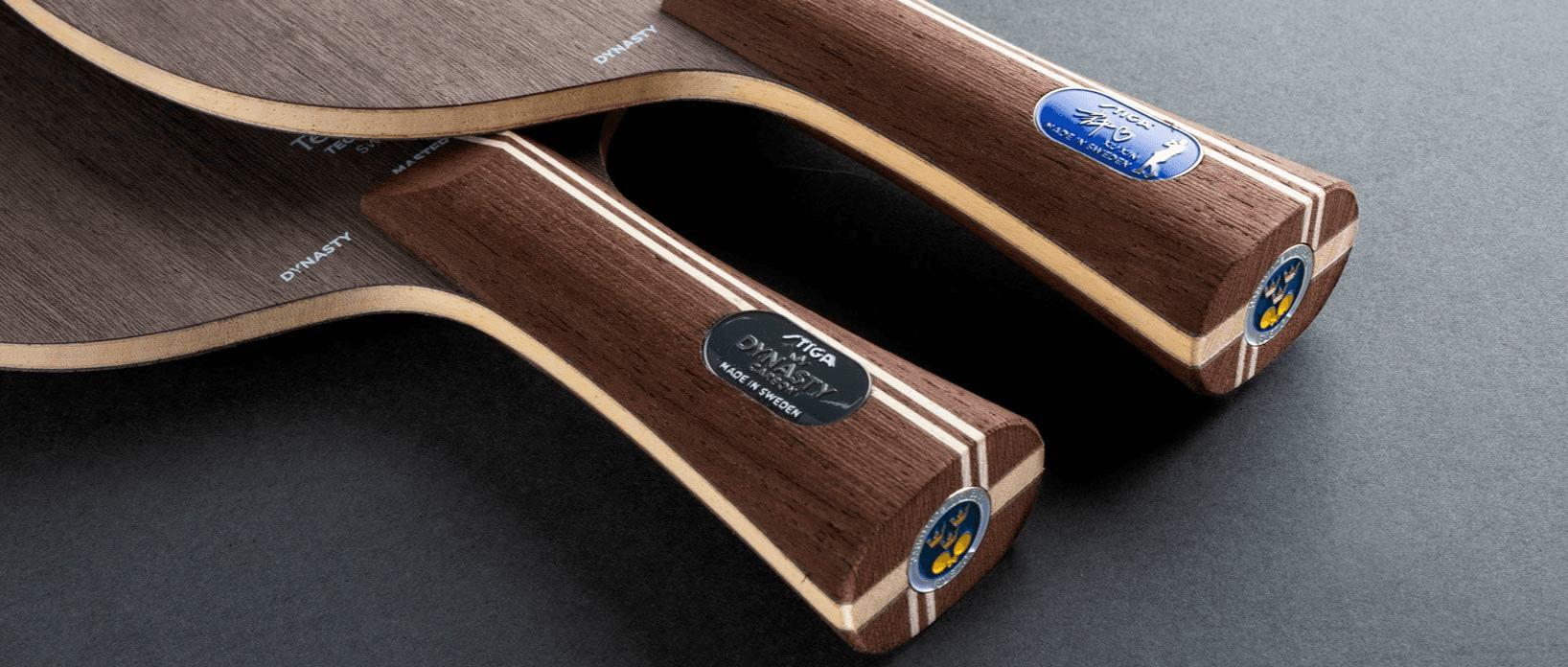 CHOOSING THE RIGHT BLADE FOR YOUR TABLE TENNIS RACKET
Finding the right table tennis blade is not as easy as it may seem, not even for the most experienced table tennis player. Every player has their own personal playing style. Perhaps you're a defensive player, who focuses on control and the aim of making it difficult for your opponent with a lot of reverse spin. Or perhaps you prefer to go all in on the offensive with the topspin and the aim of a quick finish, leaving your opponent completely outplayed.
No matter your playing style, you probably want your table tennis racket to perform in a certain way. This means that the best blade for you is not necessarily the best blade for your friend. This guide helps you to choose the right table tennis blade for you. Here you can read more about the wood, glue and technologies behind our table tennis blades. You can also find out which blade to choose in order to create a table tennis racket that suits your playing style.
Have you already bought your first blade? Here you can read more about our rubbers and how to glue table tennis rubber.
THE WOOD
Before we design our blades, we always consider the playing characteristics of the different wood types. In general terms, each wood type has something particular to offer. After testing hundreds of varieties, we have learned about the different playing characteristics of blades made in each wood type, and thus we're able to offer the best blades for upcoming world champions. Here you'll find our entire range of table tennis blades.
THE CARBON FIBRE
In the noughties, the table tennis world witnessed a brilliant breakthrough. Enter carbon fibre. This thin, lightweight material contributes to increased speed while the blade retains its lightweight quality. More and more people began to see the advantages of this material, and today, most of the world's elite players use carbon fibre blades. Carbon fibre is the main feature of the blades in our Carbonado series, which uses the unique, patented and Swedish-made carbon fibre, Spread Tow Carbon.
THE GLUE
Blade structure is not only about the wood. The glue we use to manufacture our blades also plays a big role in a blade's playing characteristics. Different types of wood require different types of glue to give the best possible results in the finished blade. The glues and gluing methods we use involve a highly complex and minutely controlled process that allows us to achieve the highest quality in each individual blade.
THE PLAYING STYLES
There are as many playing styles as table tennis players around the world, but we usually narrow playing styles down to three categories: defensive, all-round, and offensive. To make it easier for you to find the right blade, we've divided them according to the three playing styles. Which is best for you?
The defensive table tennis player
If you put a heavy focus on control and exhausting your opponent, you are most certainly a defensive player. You aim to make it as difficult as possible for your opponent, with a lot of reverse spin to get them off balance. You prefer to play with pimpled or anti-spin rubber, hence the perfect combination for you would be one of our defensive blades, Defensive Classic or Pro, together with a rubber such as Energy Absorber, Vertical or Horizontal. We recommend the following blades for the defensive player.

The all-round player
As an all-round player, control is important, therefore you should choose a 5-ply blade, which offers excellent control. You focus on taking command through topspin, and prefer a safer, more controlled style, rather than going for speed. Your main goal is to keep the ball on the table, and you prefer to play at a distance. Your playing style is more varied and you use different tactics when required. A good combination for an all-round player is the Allround Classic blade with a slightly thinner rubber (eg 1.9 mm) such as DNA Future or Genesis II. We recommend the following blades for the all-round player.

The offensive table tennis player
An offensive player is just that, with a more attacking, aggressive style that incorporates a lot of topspin and loops. You're a player with a well-developed technique who's confident about determining what the ball does. An offensive blade offers the high speed you're looking for to put pressure on your opponent. This category boasts variety, and we've therefore chosen to categorise our blades as Off or Off+. In the Off+ category, you'll find ultra fast blades that are used by the world elite. A top-ranking combination would be a blade from the Dynasty Carbon or Carbonado series together with a DNA Pro M or H rubber. If you're looking for a slightly less offensive table tennis bat (an Off blade), Clipper Wood or Infinity with a DNA Pro S or M rubber make an excellent combination. We recommend the following blades for the offensive player.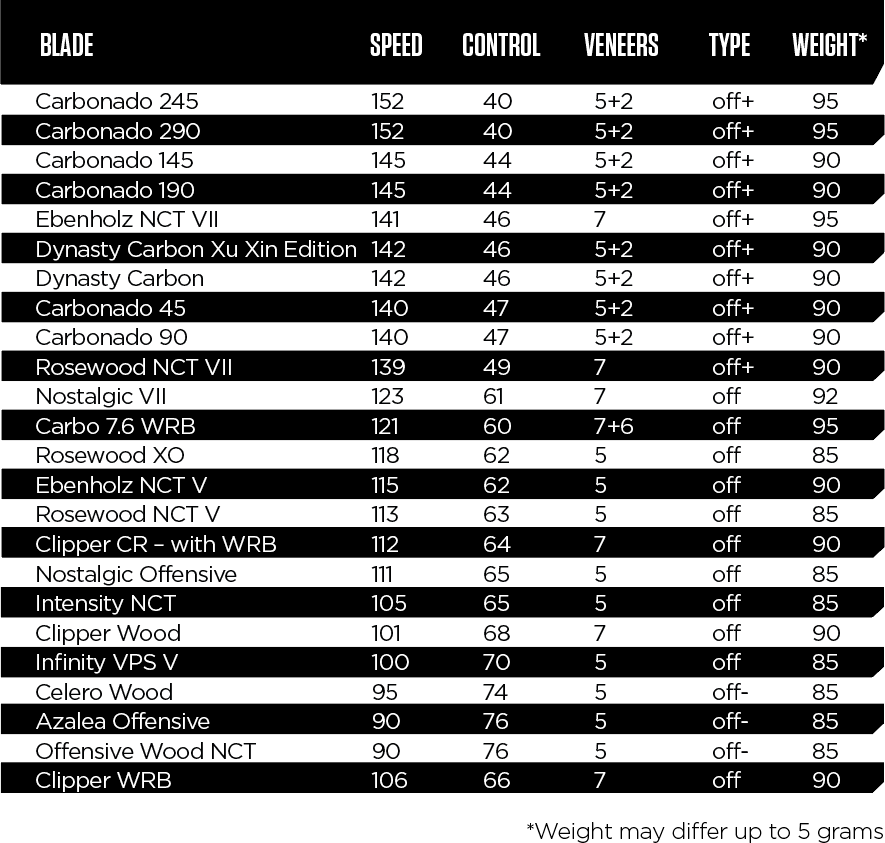 THE TECHNOLOGIES
Behind each table tennis blade lies many decades of intensive research, development and table tennis experience. Since the end of the 60s, STIGA Table Tennis has been manufacturing its own blades – genuine craftsmanship by and for world-class table tennis players. Our blades feature the following technologies:
WRB SYSTEM – a technology used to manufacture the handle, which optimises blade balance and increases speed. Example: Offensive Classic and Clipper Wood.
CR SYSTEM (Combi Revolution) – the blade surface has undergone UV treatment, which provides increased speed at ball impact. Example: Clipper CR.
VPS (Veneer Precision System) – a unique, high precision heating and cooling process that creates a blade with perfect balance and feel. Example: Infinity VPS and Nostalgic VII.
DIAMOND TOUCH TECHNOLOGY – the outer veneer is extremely hard, thus creating a blade with an incredibly smooth surface. Example: The Nostalgic series and Azalea.
TEXTREME® TECHNOLOGY – a technology based on the carbon fibre Spread Tow, which increases both a blade's speed and sweetspot. Example: all blades in the Dynasty Carbon and Carbonado series.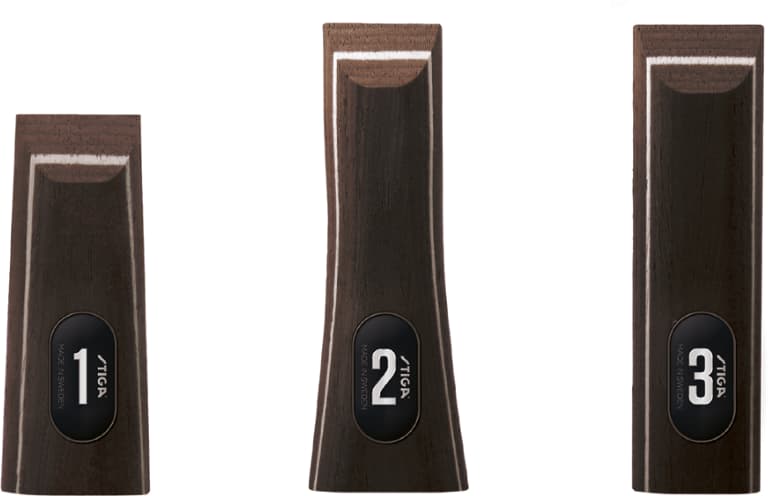 THE GRIP
Our blades are available with three different types of handles:
1. PENHOLDER
A conical, short and wide handle.
2. MASTER
A concave, slim handle.
3. CLASSIC
The classic, straight handle.
Not ready for a separate blade yet? Here you can read more about our lifestyle bats and the star rating system we use to categorise our table tennis bats.
Join STIGA Sports Club
Discover all STIGA Sports stories – and be the first to hear about new products, promotions and events. Simply, get moving!
Follow us
Visiting adress:
Tång Lindströms väg 7 - 9
633 46 Eskilstuna Sweden
Org.nr: 556448-8178