The STIGA Custom Weight Technology innovation allows you to adjust the weight and balance of the blade using three weights of 3, 6, and 9 grams that you can easily attach to the bottom of the handle with help of a magnet inside the blade, this facilitates you to achieve your personal perfect characteristics of your STIGA blade. Read more about STIGA Custom Weight Technology further down this page!
An offensive table tennis blade with a revolutionary, patent pending and design-protected shape that provides an optimised hitting area.
The symbiosis of exclusive materials, the unique Cybershape design, and the customizable CWT weights result in a flexible blade that fits several different play styles.
Developed together with STIGA professional players to work optimally with a wide range of STIGA's table tennis rubbers.
According to measurements from tests carried out in collaboration with KTH, Cybershape has a larger sweet spot placed higher up on the blade than a standard shape which gives more power in your strokes without losing control of the ball.
Handles are made of the top-quality Italian wood and have a surface roughness that ensures an optimal gripping surface without the handle feeling slippery.
Factory-lacquered surface and a weight of: 80-85 g without the three extra weight which allows you to customize the weight and balance.
QUANTITY DISCOUNT - 10-20% OFF
The world's first blade with "Custom Weight Technology"
Today's table tennis players choose their table tennis racket with care and there are a lot of parameters to consider in the hunt for the optimal racket. It involves everything from choice of material, wood, and construction to how it looks and the combination of blade and rubber. A crucial factor is the weight distribution and balance of the blade. For many players, it has become increasingly important to find just the right blade weight in order to achieve optimal performance. And more players also want to be able to adjust and adapt both weight and balance according to both external circumstances and their own preferences.
With STIGA Custom Weight Technology you can adjust and adapt the balance and weight of the blade quickly and easily with the help of small magnetic weights of 3, 6, and 9 grams that you easily attach on the inside at the bottom of the handle. 
When you can adjust the weight of the blade, you can also control the blade's mass, which together with the size of the blade and the force in the stroke create kinetic energy. This means that a heavier blade generates more force and kinetic energy at a given speed. This gives players the ability to change the nature of the blade depending on your individual preference and other external factors. A wide variety of factors influence whether play in a certain facility feels fast or slow. For example, choose a weight of 9 grams when playing in a large arena, a playing environment which tends to be perceived as slow, or a weight of 3 grams when playing in a small training facility or other playing environment where the play feels quicker. STIGA CWT allows you to already start fine-tuning your racket for a specific facility during warm-up. Depending on your individual preference and playing style, you can now adjust your blade to perfection. This also makes it perfect for players during development, as you can easily adjust the weight when you're looking for more power and speed instead of switching to a brand-new blade.  
Extensive research and several studies in our laboratory and test center have been conducted in collaboration with professional table tennis players that represent STIGA.  
Customize the balance according to your personal preferences
Depending on where the center of gravity of the blade is located, one speaks of a high-center of gravity, low-center of gravity, or a neutral balanced blade. If the center of gravity is towards the top of the blade, it is called high-center of gravity – if, on the other hand, it's at the bottom, it's low-center of gravity. What different players prefer is highly individual and depends on their playing style, previous experience, and the weight of the rubber. The weight of different rubbers also varies, so being able to adjust the weight of the blade gives you the opportunity to adjust and find just the perfect balance for you.
A lower overall weight is suitable for players who stay close to the table and prefer a fast-paced game.

Increased weight generates greater kinetic energy, resulting in more powerful strokes.
The revolutionary STIGA CWT - Custom Weight Technology is patent-pending.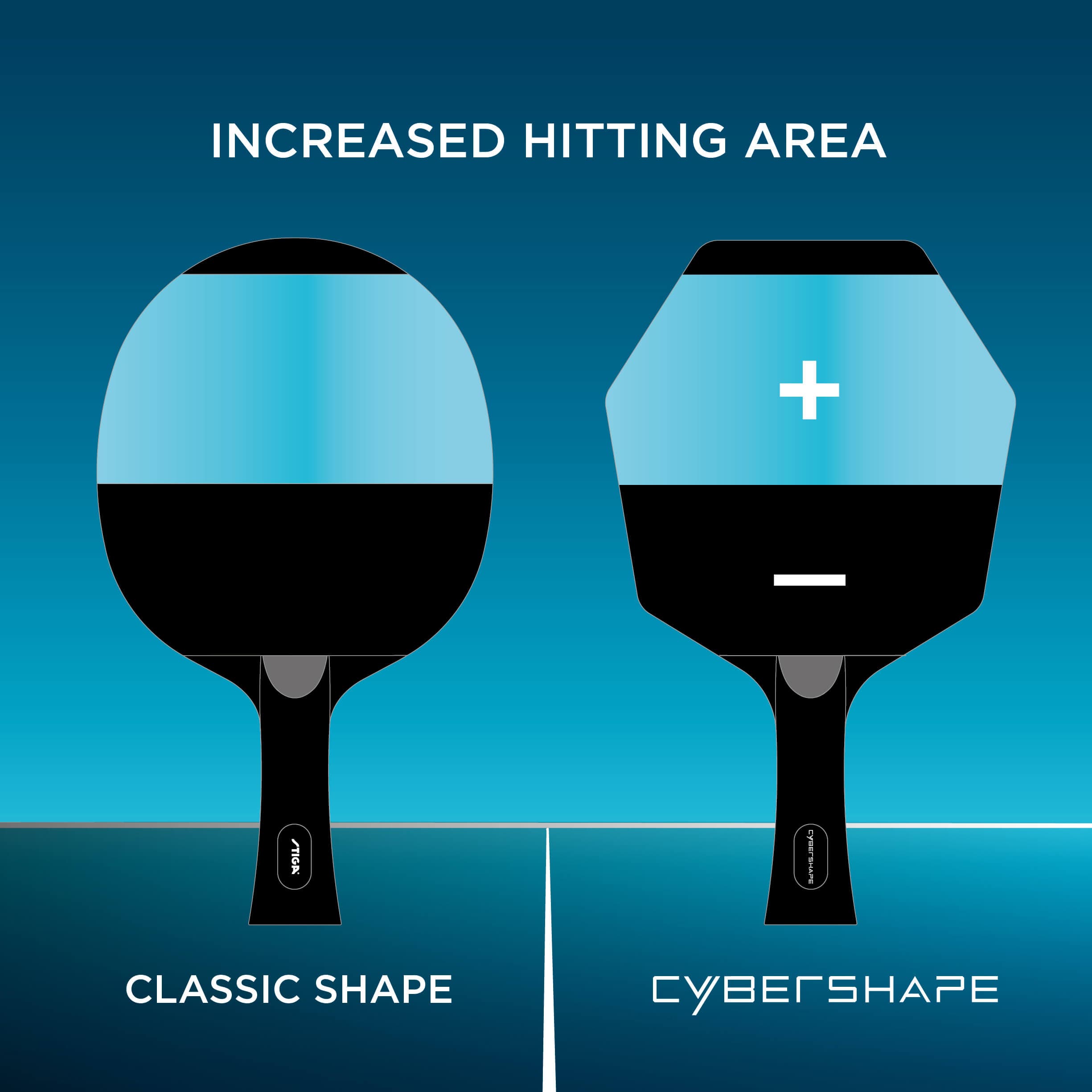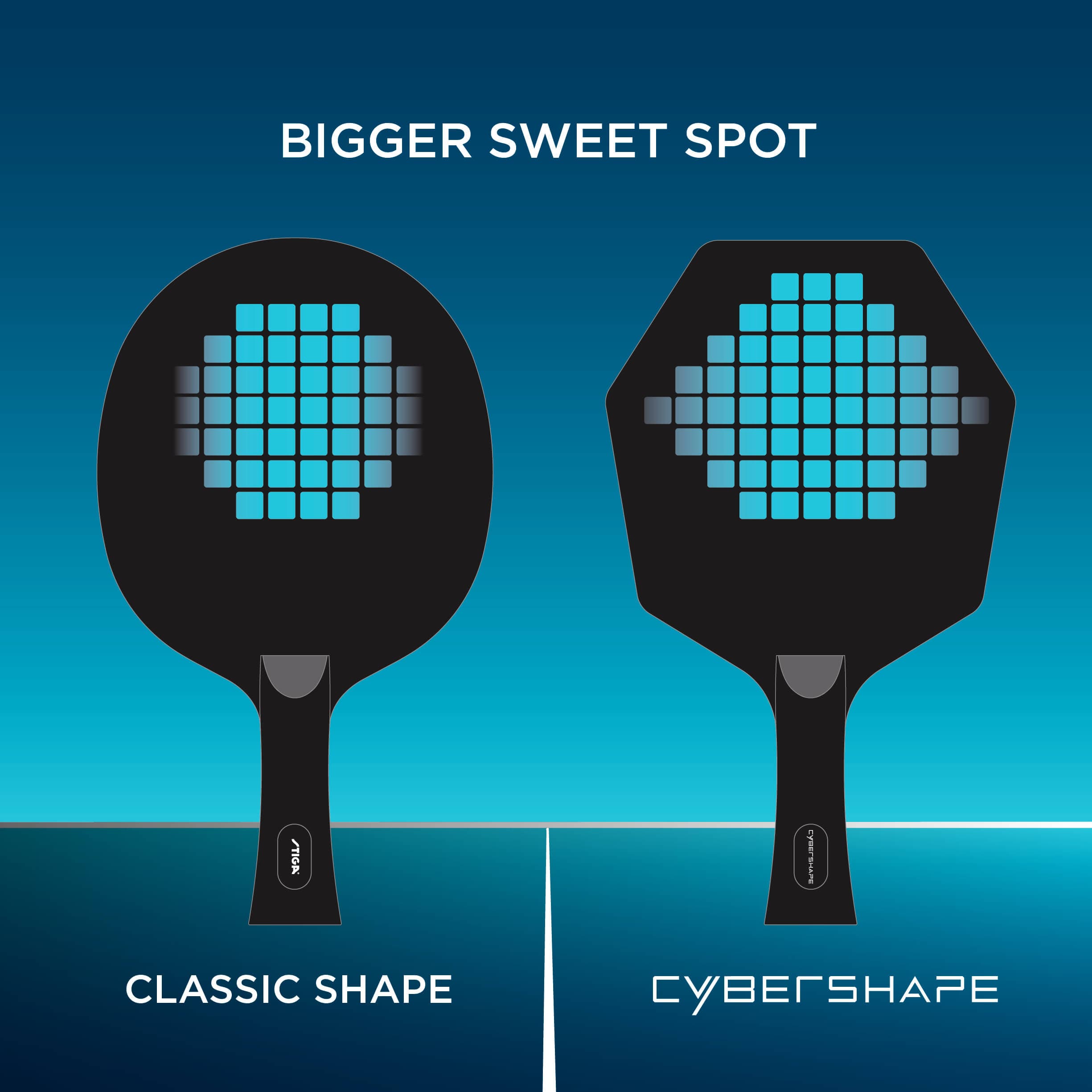 Optimized hitting area and larger sweet spot 
Our research has shown that for the majority of players their optimal hitting area is on the top half of the blade. So we've optimized the hitting area so that it is larger in comparison to the traditional shape of the blade's upper half and slightly smaller on the lower half to maintain the blade's balance.  
In collaboration with the Royal Institute of Technology (KTH), we have also tested the vibration properties of Cybershape, i.e. how the blade moves. The tests have shown that Cybershape has a larger sweet spot placed higher up on the blade than a standard shape which gives more power in your strokes without losing control of the ball.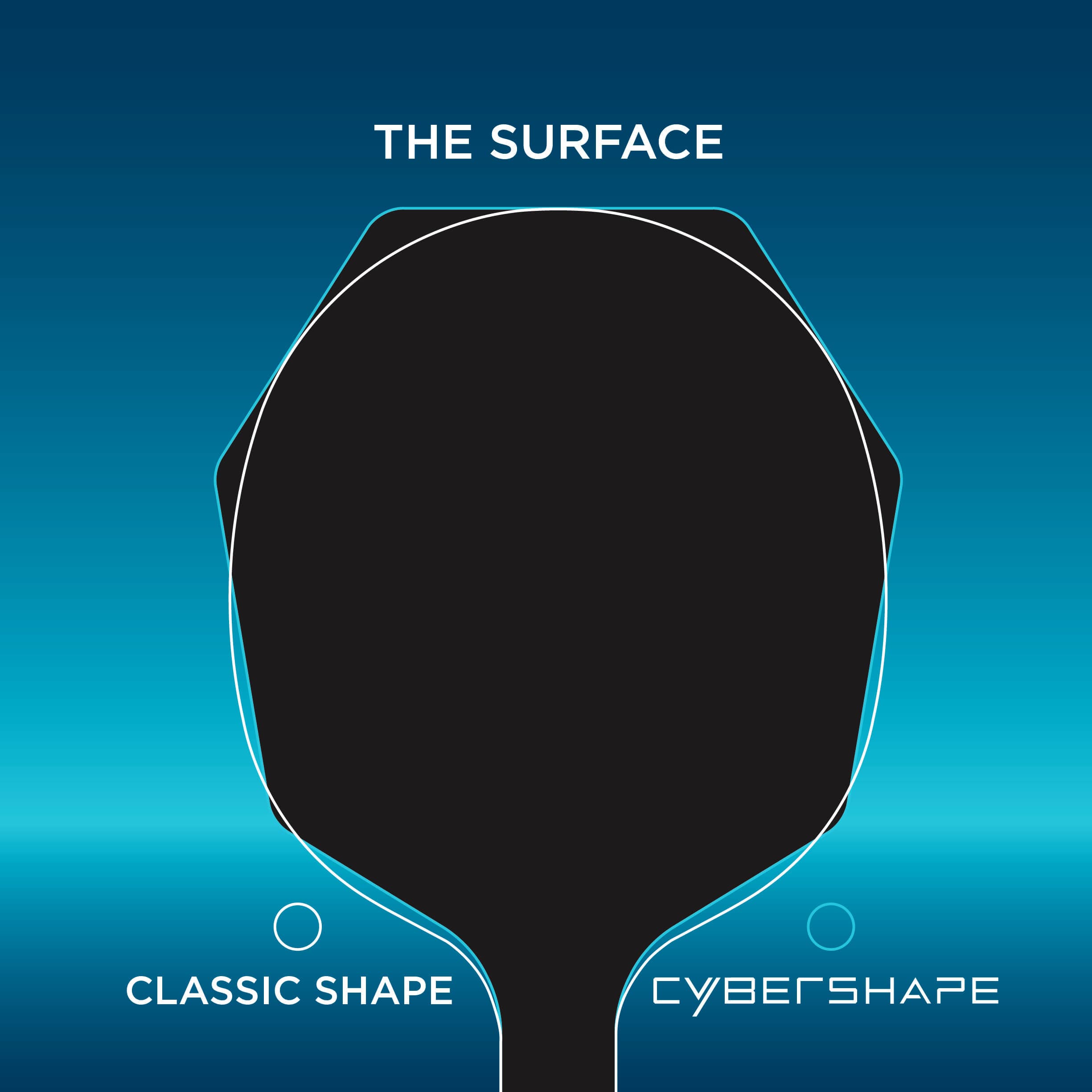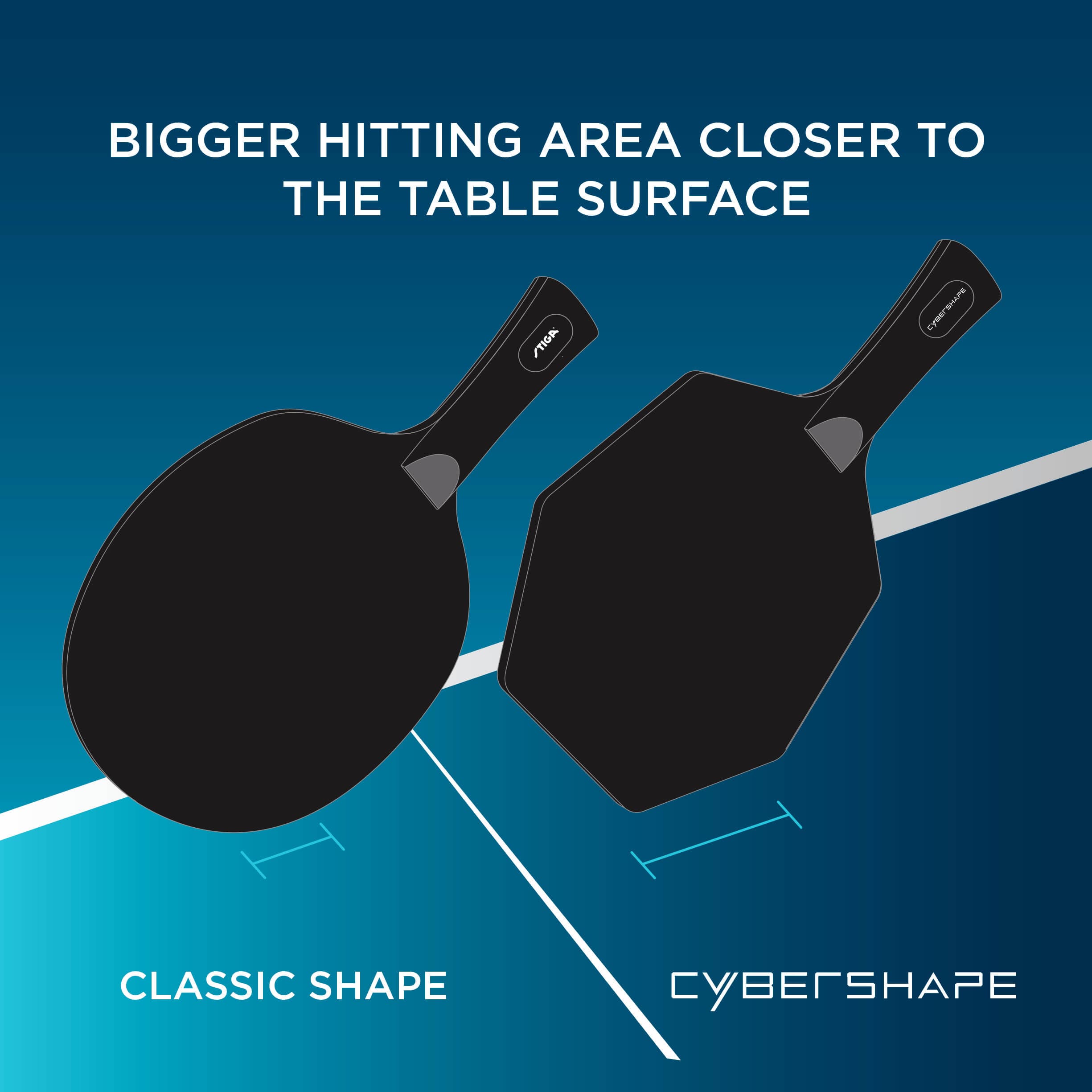 Optimized hitting area closer to the table surface  
Since the ball usually strikes the top half of the racket (both backhand and forehand), that's exactly where Cybershape really stands out. One of the distinctive features of the Cybershape design is that in your return and short game you get closer to the surface of the table by all of 6.5 cm of the hitting area, compared to 2.5 cm for a round blade. This gives you more of a chance of getting to short serves and returns.  
With Cybershape's unique shape, it is also easier to get the ball placement on the hitting area you desire while serving. Thanks to Cybershape's angles, you automatically have six corners as a basis to aim for, depending on how much and what type of spin you want.  
Top-quality wood gives you a stable handle 
Cybershape Wood CWT is available in three different handles: Master/Concave, Classic/Straight and Pen/Penhold.  
The handles for Cybershape Wood CWT are made of the top-quality wood and have a surface roughness that ensures an optimal gripping surface without the handle feeling slippery.  
The lens is made of stainless steel and has undergone a process that makes it change colour depending on the light and angle of the racket.  
The combination of layers of wood and different rubbers creates a dynamic racket system  
Cybershape Wood together with STIGA CWT and a selection of different rubbers results in several possible dynamic racket systems. Cybershape Wood is made up of 5 carefully selected wooden layers that are developed to work in symbiosis with several different rubbers to be able to fit the majority of playing styles. Cybershape Wood, combined with softer and slower rubbers, is a perfect introductory blade for when you start your career, while also being suitable for more experienced players who prefer a lot of control and feel with every stroke.  
If you prefer power in your strokes, we recommend that you combine the blade with harder rubbers. With Cybershape Wood, even players who are looking for more speed when playing can generate the power needed in combination with harder and thicker rubber.  
At STIGA, we see the table tennis blade as the engine of the racket system, and we are proud of the dynamic engine we have developed with Cybershape Wood CWT – a blade not just for when you are setting out but also to develop your game for a long time into your career.  
Join STIGA Sports Club
Discover all STIGA Sports stories – and be the first to hear about new products, promotions and events. Simply, get moving!
Follow us
Visiting adress:
Tång Lindströms väg 7 - 9
633 46 Eskilstuna Sweden
Org.nr: 556448-8178