STIGA – BUILDING WORLD CHAMPIONS SINCE 1944
This year, STIGA is celebrating 75 years as a table tennis brand. Since 1944, we have provided both professionals and enthusiasts, in Sweden and internationally, with table tennis products of the highest quality. And always with a big passion for the sport. But let's go back to the beginning.
STIG(A) STARTED WITH THE SWEDISH CHAMPION
STIGA Table Tennis was founded in 1944 by Stig Hjelmquist in Tranås. Stig was a skilled businessman who understood the importance of engaging professional players into the company. Back in the 50s, he hired Sweden's leading table tennis player, multiple Swedish champion Tage Flisberg. Although Flisberg was employed in the order department, his first task was to design a new table tennis bat – a bat made by a world class player for world class players. It was the first time that a table tennis bat would have the unique playing characteristics of a player.
However, Stig didn't settle for just one professional player. In 1963, he employed Kjell "The Hammer" Johansson, who became the first in a row of future Swedish legends to act as a promotional figure for the company; Johansson became the world champion in singles, doubles and team events. Eventually, the two-time European singles champion Hans Alsér and Stellan Bengtsson were also hired, Bengtsson being the first Swede to win the World Singles Championships in 1971.
CLIPPER 75 ANNIVERSARY VERSION
STIGA Table tennis is celebrating its 75th anniversary and is now launching the Clipper 75, a new blade in the classic Clipper series.
RACKETS BY PLAY STYLE
Already in the 50s, Stig began developing rackets according to the professionals' own playing styles and grips. The great Swedish stars Bengtsson, Johansson and Alsér all had their own grips: straight, conical and concave respectively. Even a sticker on the players and their name became a clear sign of rackets from STIGA early on. These frames and their specific characteristics still form the heart of the company today.
BIG PLANS AT THE TABLE
As STIGA and table tennis were advancing in the 50s, a young country boy and baker's son, Bengt Andersson from Borsökna, just outside Eskilstuna, sat and pondered the future. Perhaps "sat" isn't the right word since Bengt was hardly a boy who could keep still. He constantly pondered over the concept of business – and how to do it in the best possible way. Always busy with something, at the age of 18, he and his brother ran a pastry shop with 40 employees.
Bengt knew very early on that business was for him. And then there was table tennis. He often played with the brothers Kjell and Christer Johansson down at Fuxen in the early 50s. The three of them would make grand plans over the table. Kjell wanted to be world champion, Christer a coach, and Bengt dreamed of running the world's largest manufacturer of table tennis products. But few, probably not even they themselves, knew how close to their dreams they would come in reality.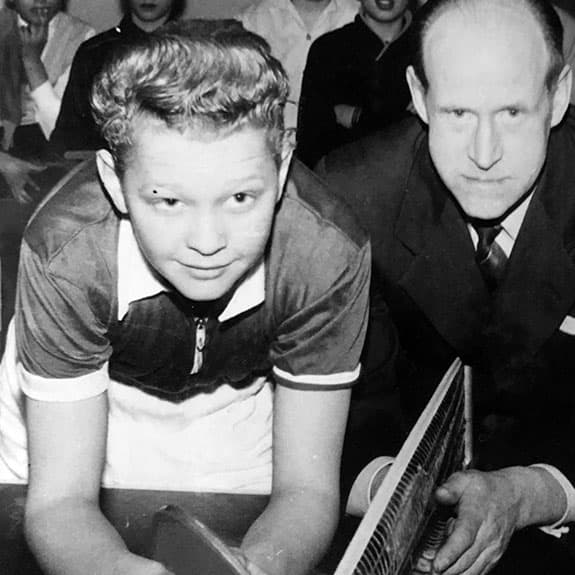 WORLD CHAMPIONSHIPS AT HOME SPARK A TABLE TENNIS BOOM
In the 50s and 60s, almost every school, recreation centre and association in Sweden had a table tennis table. Every recreation space and garage large enough to hold a table became the natural meeting point. Table tennis was being played everywhere. One of the main reasons why the sport had become so popular was due to a big event: The World Table Tennis Championships in Stockholm in 1957. This and four other table tennis championships were being played on tables that are still considered to be the best in the world: the STIGA Expert VM.
BENGT ANDERSSON BECOMES BANDA BENGT
In the mid-60s, STIGA products began to gain a strong foothold both in Sweden and internationally. At the same time, Bengt, the entrepreneur, decided to start a company called Banda in Eskilstuna, as there was certainly room for more operators on the international table tennis scene. After training one day, Kjell came home claiming to have discovered the world's best table tennis ball, and so Bengt decided to start importing the balls from the Nittaku brand in Japan.
The determined entrepreneur got on the phone to sports stores to inquire about the special Japanese ball. When they said they'd never heard of it, he told them to get in touch with Kjell who'd said it was the best and only ball he used. It wasn't long before the stores starting calling Bengt wanting to buy the balls. After all, who doesn't want to play with the same ball as a pro?
SEPARATE BLADES - THE HEART OF STIGA
At the end of the 60s, STIGA, which had previously only produced complete rackets, began to manufacture and sell separate frames for the first time. The first frame was named Allround Classic and was developed together with the Swedish masters who had to leave their mark on the different grips: the pleasant and slightly wider, concave Alsér grip, the conical grip of Hammaren and Stellan Bengtsson's simple, straight grip. More frames were produced and became bestsellers, but the original Allround Classic is still manufactured today and remains one of the world's most famous table tennis frames.
Interest in STIGA's frames then slowly but surely spread around Europe during the 70s when many active people traveled around and marketed the Swedish craft. The frames were sold directly to the players who then glued on the rubber themselves.
J-O AND THE SOCKS
Bengt continued to work with Banda, who had a hard time standing up to the competition created by STIGA, but in the early 1970s, he discovered a brilliant talent in Sundsvall, a sevenyear- old by the name of Jan-Ove Waldner. Bengt and J-O got on so well that Bengt contacted his parents, asking if he could sponsor their son. J-O's parents said yes. After every match, J-O would join Bengt in the spectators' gallery. On one occasion, he took out a pair of socks from his bag. "Do you know when I'll be wearing these?" he asked Bengt. "When I compete at the finals of the World Championships." And he was right! In 1987 in New Delhi, during the World Championship finals against reigning world champion Jiang Jialiang, J-O was wearing those socks.
STIGA MOVES TO ESKILSTUNA
Bengt and STIGA's paths finally crossed in 1984 when Bengt acquired the table tennis division of his biggest competitor. He then continued to run the company under the name of Sweden Table Tennis AB. And so STIGA moved to Eskilstuna. It also marks the starting point for a prosperous era for Swedish table tennis. In 1989, the new and young national team beat China for the first time since winning Gold in the World Championships in Sarajevo in 1973. Clad in STIGA clothing, the Swedish team then went on to win the World Championships three years in a row.
MATS FOLLOWS IN HIS FATHERS FOOTSTEPS
Bengt's son, Mats, who had grown up with the company, began 25 playing table tennis at the age of eight. Two years later, in 1978, after winning a table tennis championship in Oxelösund, he was rated among the best players of his age in Sweden
Mats was then selected to represent Sweden at the European Youth Championships, where he won Silver in the doubles with Thomas von Scheele, Bronze in the singles, and Gold together with the Swedish team. Two years later, that very same team was once again on top of the podium in the Junior Championships. However, in 1987, Mats decided to end his international table tennis career in order to focus on elite level participation, first at the Stockholm-based Spårvägen BTK and later at the Eskilstuna-based BTK Linden.
But then, at the tender age of 21, Mats placed his bat on the shelf and started studying economics at Linköping University. After graduating, he moved back to Eskilstuna and began working for STIGA's export department. During the years that followed, he divided his time between export sales and head of product development, always in close cooperation with his father Bengt.
SIGNING AN AGREEMENT WITH LIU GUOLIANG
At the beginning of the 1990s, an event took place that would be very important for STIGA. Bengt and Mats succeeded in signing an agreement with Liu Guoliang, a legend in the world of table tennis and the first Chinese player to achieve a grand slam of three majors (Olympic Gold, World Cup, World Championships). "He couldn't speak English and I definitely couldn't speak Chinese, so, to this day, I don't know how we managed to seal the deal," says Bengt.
The agreement with Liu Guoliang was the beginning of a long and close cooperation between China and STIGA, and the reason why the company is still the official blade supplier to the Chinese national table tennis team.
GENERATIONS SHIFT WHILE HIGH GOALS REMAIN
After almost 40 years in table tennis and blade production, Bengt chose to step down as CEO in 1999, handing over the reins to his 31-year-old son Mats. Mats' philosophy was that STIGA should be as visible as possible, and, like his father, he wanted the brand to be the world's largest manufacturer of table tennis products. And like his father, he was very passionate about the Swedish-made blades and always placed great importance on the products having unique playing properties and meeting STIGA's high quality standards.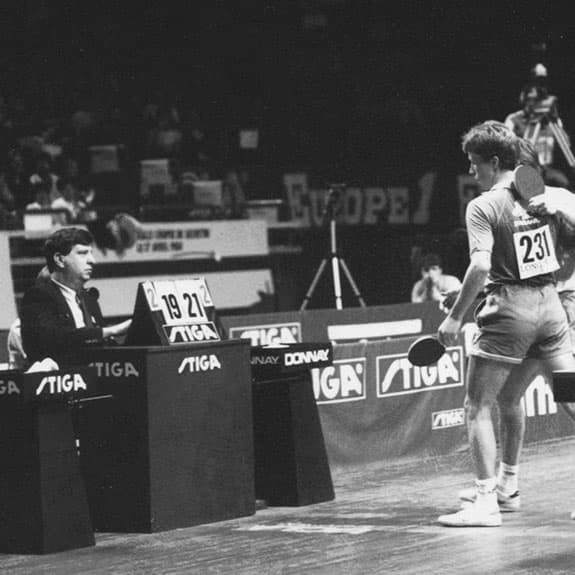 SWEDISH TABLE TENNIS HYSTERIA COMES ROUND AGAIN
In the spring of 2000, the Swedish team had a sensational victory at the World Championships in Kuala Lumpur, Malaysia: the first Gold medal for Sweden since the Championships on home turf in Gothenburg in 1993. If that wasn't enough, four months later, two Swedes reached the semifinals at the Sydney Olympics. Swedish table tennis hysteria was in full swing again. Suddenly, everyone wanted to play table tennis. People went so crazy that all the Swedish sports chains as well as the STIGA warehouse ran out of bats and balls.
The increased interest in table tennis initiated the signing of a 10-year cooperation agreement in 2003 between STIGA and the Swedish Table Tennis Association, and in 2013, the agreement was extended by another seven years.
THE TABLE TENNIS STORY CONTINUES
Bengt and Mats' joint eye for business, passion for the sport and the ability to speak the players' language - albeit not literally in all aspects of the game - have been crucial to the success and continued development of Banda and STIGA.
And the table tennis story doesn't end there. It has only just begun. With a firm instinct for quality and innovation, and a great passion for the sport, we continue to provide professionals, enthusiasts and families with Swedish-made world class blades and table tennis products. Just as we've always done since 1944.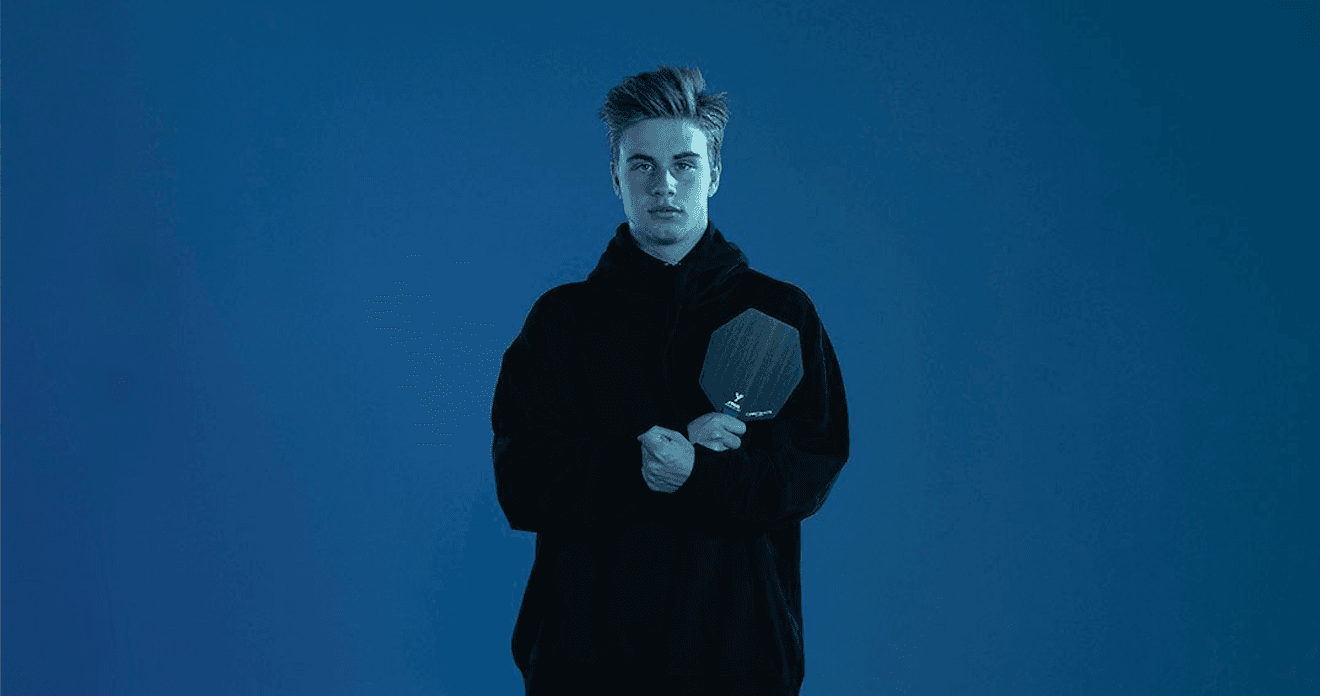 75 YEARS OF HANDMADE INNOVATION FROM SWEDEN
STIGA blades have been well-renowned and considered world leading ever since we began our journey in 1944. For over 75 years our blades, under our own production, have been the heart and soul of STIGA Table Tennis. Our philosophy has always been to find the perfect balance of quality, design and playing characteristics. All are handmade, using innovative thinking with classic design, in Sweden.
All throughout our history, we have always valued and respected the environment and rightfully considered wood a living and organic part of nature. Therefore, we've always strived to secure and promote responsible management of the world's forests.
All STIGA blades are made in Eskilstuna, Sweden and developed, designed and produced in our state-of-the-art production complex, equipped with top of the line high tech equipment, operated by our world class staff with years of experience in wood, fiber materials, environmentally friendly adhesives and R&D.
This combination of innovative machinery and human proficiency is what supports our continuous improvements in handmade blade production and our ongoing promise to keep building world champions.
Join STIGA Sports Club
Discover all STIGA Sports stories – and be the first to hear about new products, promotions and events. Simply, get moving!
Follow us
Visiting adress:
Tång Lindströms väg 7 - 9
633 46 Eskilstuna Sweden
Org.nr: 556448-8178