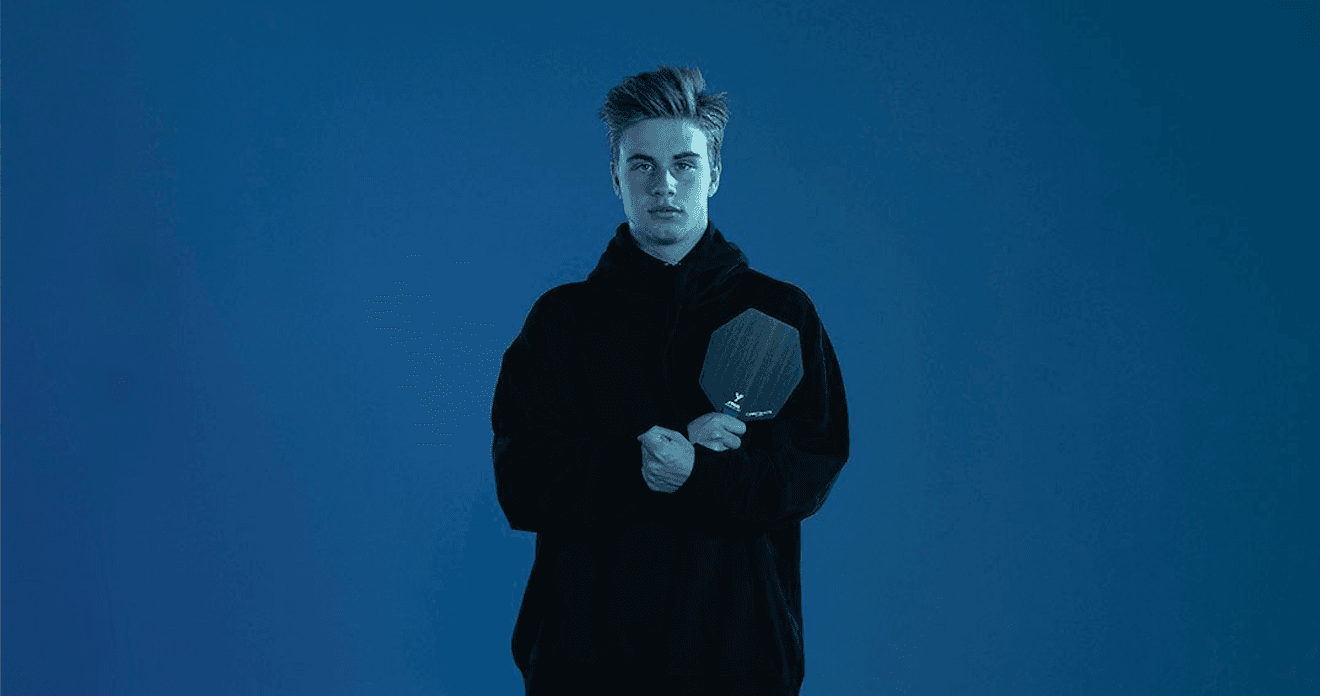 TRULS MÖREGÅRDH
FROM HOVMANTORP TO THE WC FINAL IN THE USA
Truls Möregårdh, born in 2002 in Hovmantorp in the Småland forests, is the rising star who has made a name for himself in world ping pong in record time. Truls was appointed early on as the great future promise of Swedish ping pong, and as a 17-year-old he made it all the way to the Japanese top league, where the fans quickly learned the Swedish super talent's victory gesture.
The lowest ranked player to reach the WC final
But the success story does not end in Japan. In November 2021, Truls started playing with STIGA's major investment Cybershape Carbon, a completely new and revolutionary shape of the frame. A form that took him all the way to the WC in Texas that same year. Truls managed the somewhat incredible feat of reaching the World Cup final as the lowest-ranked player ever (ranked 77th) and left the tournament as the fourth best in the world. And after the World Cup, it has only continued. In addition to SM gold in 2022 (his third at senior level), Truls is currently ranked number one in Europe. He has also signed for games in the German Bundesliga and the team Neu-Ulm, with whom he will also play in the Champions League.
How it all began
Truls knew early on what he wanted. At home in Hovmantorp, the mini table was hot when he played together with father and older brother Malte, who was a Swedish national team player at cadet and junior level. Of course, Truls also wanted to play on a real table and become as good as his brother, so at the age of 7 he also started training with the table tennis club in Hovmantorp.
In addition to ping pong, Truls also played a lot of soccer and tennis, but he soon realized that to become really good at ping pong, he would have to focus much more on it. And ping-pong turned out to be the right way to go. Already when Truls was 10 years old, he won his first Euro Mini Champs (official EC for 11-year-olds) and he also went home the following year with the gold in the same competition. When Truls was 12 years old, the whole family decided to move to Eslöv to support Truls in his ping pong venture.
Debut as the youngest player ever in the Champions League
Truls became the youngest player of all time in the Champions League when he made his debut in 2016. And the successes continued thereafter. Among other things, Truls took home cadet silver two years in a row, silver in the Junior WC in 2017 and 2019 and gold in the Junior European Championship in 2019.
The pursuit of the dream of becoming the best in the world had begun. After the ninth grade, Truls made the decision to drop out of school in order to devote himself wholeheartedly to ping-pong. A venture that, at the age of 17, made him the youngest ever to win SM gold for seniors and which also took him all the way to Japan.
Rapid development thanks to training with seniors
Truls has always trained against seniors and believes that this has been of great importance for the rapid development. He also believes that he has learned a lot from the way J-O and Jörgen Persson played.
"I train hard and think a lot. When I don't make a good shot, I think about why it wasn't good and try to change it."
The Japanese environment has also taught him a lot. "It is a completely different training culture than in Sweden and very instructive to experience how the best in the world train. Above all in terms of focus, fitness at the table, speed and tactics."
Truls frames and tires over the years
STIGA's table tennis products have followed Truls since he started playing and he has tried a lot of different combinations over the years. The very first combination he played with was an Allround Classic frame with Magna rubber.
Today, Truls play with Cybershape Carbon with a straight grip and DNA Platinum XH 2.3mm on both sides. With DNA, he was able to raise his game another dimension. The new ABS ball requires a rubber with a lot of screw and with DNA he gets that little extra - an additional arc in the game.
"What I feel is most positive about DNA is the consistent hitting I have, and how even in pressured situations I can maintain momentum in the game and put pressure on the opponent."
Some of Truls favorite combinations
Allround Classic + Magna
Infinity + Calibra LT
Carbonado 290 + Mantra H
Carbonado 190 + DNA Pro H
Inspira CCF + DNA Platinum XH
Cybershape Carbon + DNA Platinum XH
Truls merits
WC silver 2021
SM gold as senior (single) 2019, 2021, 2022
Bronze in team EC 2019
Gold in the Junior EC 2019
Bronze in the team WC 2018
Silver in the Junior WC in 2017 and 2019
Join STIGA Sports Club
Discover all STIGA Sports stories – and be the first to hear about new products, promotions and events. Simply, get moving!
Follow us
Visiting adress:
Tång Lindströms väg 7 - 9
633 46 Eskilstuna Sweden
Org.nr: 556448-8178